Home
/
Manufacturing Capabilities
/
Precision Welding

THE PERFECT UNION
It's both art and science.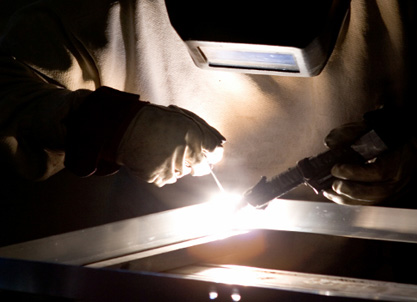 Precision Welding Case Study »

MAKING IT ALL COME TOGETHER
Our precision welders demonstrate every day that excellence in welding is achieved through best in class technique as well as a thorough understanding of metallurgy. Their goal? To weld to exact specifications, whether Mig or Tig, and exceed customer expectations every time.
We are known for our success in welding difficult products. Such as those that have tight tolerances, very high cosmetic requirements or weight bearing load conditions. In every case, success is the only option.
Our welding services can be applied to individual parts and sub assemblies as well as complete products. We weld steel and stainless steel, but our specialty is aluminum.
Specifically our manual, robotic and automated welding capabilities include:
Gas Tungsten Arc Welding (Tig)
Gas Metal Arc Welding (Mig)
Spot-Welding Aluminum and Steel Mil-W-6858
Mig Robotic Welding Aluminum
Silver Torch Brazing

Our welding certifications:
Certified spot welding Mil-W-6858; AWS D17.2; 125, 200, 250 KVA;,
Certified welding 2219, 8604, 248D, AWS D1.1, AWS D1.2, AWS D1.3, AWS D17.1
Welder qualification 1595A
Other certifications available upon customer request